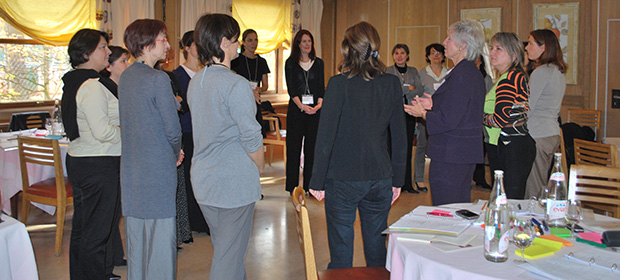 Women's Success Strategies
Take away benefits
Strengthen women professionals in their ability to demonstrate leadership
Allow the full recognition of women's contribution to the management team
Enable women to influence decisions and become more equal partners in strategy formulation
Provide the critical skills needed to manage crisis and change in the new cyber environment
Gain an approach to managing people and teams with confidence and credibility
Enable crisp decision making and the ability to negotiate and influence for rapid results
The Workshop at a Glance
This is leadership development for women professionals who have ambition and talent and want to be recognized for their contribution.
The workshop concentrates on understanding and mastering the often hidden rules of the game of business. We will build strategies to avoid traps and pitfalls, and to project a credible and positive image. We will practice assertive vocabulary and tactics to influence top management and key stakeholders. The unconscious blocks to women's power will be uncovered to enable outstanding achievement.
Who should attend
Women professionals from all sectors who seek a more influential role at work and who are eager to acquire the mindset and skill set that will ensure effectiveness with people, personal well being, and deserved recognition.
Content Outline
Understanding Leadership Styles
Transforming the conflict between men's and women's professional styles into genuine complimentarity.
A new model of female leadership
Putting women in touch with their unique qualities and bringing them into play
Leading others begins with self
Leading others requires self-understanding and rigorous taking stock of personal attributes, motivation and development needs.
Recognizing what is important and prioritizing
Changing the paradigm where we operate primarily from urgency rather than from importance
Decision-making and influencing skills
Managing the decision-making process and understanding and learning how to influence to get results
Managing tension and stress Feeling self-assured and able to deal with crises and problem situations. Avoiding being a source of stress at home and at work.
Thinking and acting strategically Promoting yourself, becoming friends with power, and always thinking about what's next
Methodology
Stimulating pace combining bursts of expert input, with case studies, group analysis, real work simulations, individual coaching, as well as a selection of assessment tools and zesty energizers